All Inclusive
Wedding Packages
Set in 20 acres of beautifully landscaped gardens and woodland and nestled on the shores of Lake Windermere, this grand Edwardian country house hotel is the perfect setting for your special day.
Cragwood is a multi-award winning venue. This year we were voted 'BEST WEDDING VENUE IN THE NORTH WEST' in the 2022 Wedding Industry Awards. In 2019 Cragwood was voted 'WEDDING VENUE OF THE YEAR' by Cumbria Tourism, and we have also been a 2020, 2019 and 2018 regional finalist in 'The Wedding Industry Awards' as well as a finalist at 2021 North West Wedding Awards for 'BEST WEDDING VENUE – CUMBRIA'. In 2017 we also won 'SMALL HOTEL OF THE YEAR' - Cumbria Tourism.
At Cragwood we have three wedding packages for you to choose from, all of which give you exclusive use of the entire hotel and grounds.  Our wedding packages are named after the majestic Lakeland Fells and are based on 40 guests but can be increased up to 80 day guests and 120 evening guests and are all available seven days a week.  However if you're looking for a more intimate affair then our popular 'Just Us' package is perfect for you!
To fully experience the beauty of our surroundings, take the opportunity to cruise on Lake Windermere. We can arrange for a boat to collect you and your wedding party from our private jetty and as you take in the breath-taking scenery, we can serve chilled Champagne.
Join Albert on a virtual showaround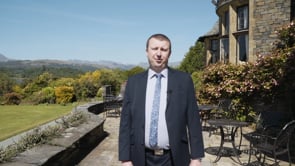 WEDDING ENQUIRIES FORM
Take a moment to complete our simple form and we'll get back to you straight away.
Want a peek into a Cragwood Wedding?
Watch the highlights from a truly memorable day